BRYAN ADAMS
/
August 25th, 2021
/
There are currently 0 comments
PLAYER SPOTLIGHT
"I realised I had made it when I could pay my rent for more than a month without relying on anyone"
– B.A guitarworld.com 2020
The discovery of the most iconic players both past and present continues with arguably one off the greatest singer-songwriters to evolve from within Canadian borders.

This man is the reason many of us have picked up a guitar in the first place he's such an influential figure, he's racked up millions of album sales worldwide and continues to tour to this day.

He's going to run to you and he really can't stop this thing that he started! 

The hit maker – Bryan Adams 🎸 .

Canadian King 👑
Remember, remember, the 5th of November a significant date in the history of the world along with the year 1959 a truly significant date for all guitar heads. 1959 was definitely a year of fireworks in the guitar industry, as we now know the Gibson Les Paul sunburst from 1959 and iconic Fender Stratocasters from 1959, this was the year everything really became iconic.
Put these two dates together and place ourselves in Kingston, Ontario, Canada and we have the birthdate and place of a true 1980's icon.
Bryan Guy Adams was born to English immigrants who had settled in Canada, his father worked as a Canadian diplomat and eventually became involved with the United Nations.
His father was very much a military man and Bryan as a young man lead the same disciplined lifestyle, attending strict military school and moving from place to place. Bryan and his brother were very used to the travelling lifestyle, adapting to hotel rooms and variable surroundings from a young age.
He attended strict military schools in several countries, including England, Austria, Portugal, and Israel. Adams recalled for Steve Pond in Rolling Stone that "the discipline that they taught me in school was good, because I was able to focus on things – but I didn't realise that at the time."
His attention to music came at an early age as he withdrew his discipline from school and studies, this eventually became a tipping point for him.
"If I were to record the songs that were the real influences in my life, I would record a lot of hard rock from the 70s," says Adams. "And most of those songs are untouchable. There are many reasons why I wanted to pick up a guitar," says Adams. "One of them was the Machine Head album, by Ritchie Blackmore and Deep Purple".

Bryan Adams 2014 via Wiki
His early influences and key influences are drawn from across-the-board of popular music at the time of his adolescences. A great indication that really covers this is via his Apple Music influences playlist.
"The summer of '69—and the years surrounding it—had a major impact on this Canadian six-string slinger. Adams paid attention to the driving guitar rock and pop-leaning melodies of tracks like CCR's boogie-rock classic "Down on the Corner" and Humble Pie's scorching "30 Days in the Hole," crafting his own catchy and powerful hits. There's even a little Motown to add some sweetness to this riff-heavy mix."

Bryan Adams: Influences Apple Music playlist
Almost to the line of his now smash hit anthem Bryan's first guitar was a treasured experience, like many young men back then the pull of popular music and rock 'n' roll had a strong magnetism.

His first guitar was obtained through much hard work and graft as nothing came for free and nothing was given or handed out due to his strict and conformed upbringing.

Allegedly Bryan washed dishes and worked hard to make his dream of owning an electric guitar a reality.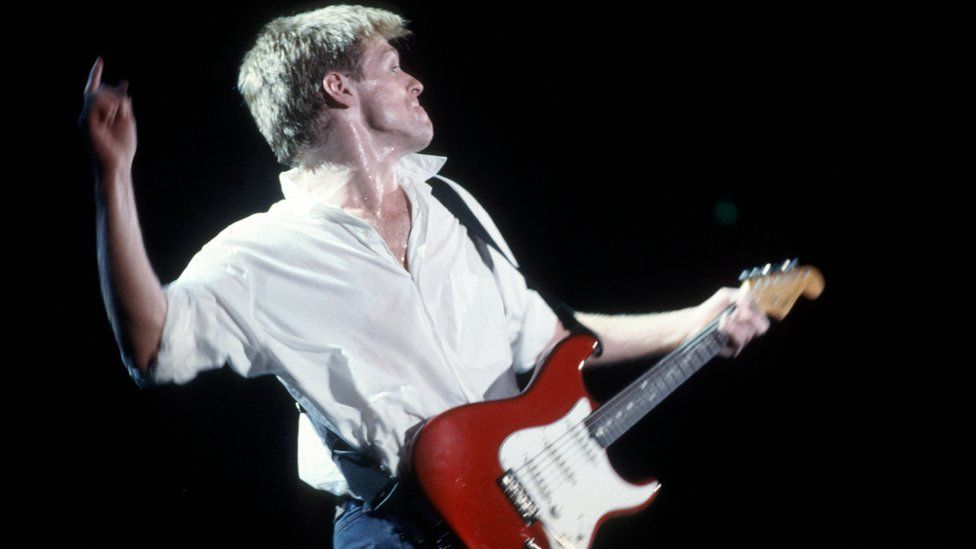 "Which was your first?
BA: My first guitar was a Sunburst Red Stratocaster,which I bought in the british city of Reading in 1970. There´s an anecdote about it. When I went back to Canada one year later, I gave this instrument as a present to my neighbour. So 25 years later, in the mid-nineties, I got an e-mail from my neighbour asking if I would like to get the guitar back in memory of my early days. I said sure I would like to, but sadly I never heard from him again. Not too long ago, a stranger spoke to me in Berlin asking if I still wanted to get that guitar back. It turned out that he was a relative of my neighbour´s and that he had lost his life at a plane crash before he was able to give me back that guitar.

Now this guitar is back to me!"
http://www.bryanadams.org/english/2006/04/20/bryan-adams-talks-about-guitars/
At the age of 12 the first guitar was in his hands and he taught himself how to play the instrument, leaning on his influences, this really is something quite commendable as he didn't come from a particularly musical background with any incentive to pick up an instrument.

After much devotion, dedication and obsession with the guitar and rock 'n' roll in general Bryan eventually dropped out of high school at the age of 16 to dedicate himself and pursue his dream of music.

His first musical outing and Band came in the form of a local Glamrock outfit called Sweeney Todd.

Adams would write songs with the group and also perform locally, he actually made two full recorded albums with the band… it's this project that would lead him into his long-term future and career within the music industry.
Pop Star ⭐️ Rock Star ⭐️ Icon
On the scene as a young man with everything in front of him Bryan was pushing away and really dedicated himself to progressing within the music industry.

Through his time in the studio he became acquainted with producer and respected member of the music scene Jim Vallance.

Jim saw something and a mutual respective partnership quickly formed; Vallance was looking for a singer, Adams was looking for a route to musical respectability, and the two hit it off immediately and began collaborating.
The first album wasn't too successful, and the second one got there somewhat… but it was the third album "Cuts Like A Knife" that really catapulted Adams into rock 'n' roll stardom!

This album went platinum in the United States and introduced Adams' husky-voiced, passionate rock with agreeable hits like "This Time," "Straight from the Heart," and the title track, "Cuts Like a Knife." Adams followed with Reckless (1984), which soared to the top spot on the U.S. record charts. It features six major hit singles, including "Run to You", "Summer of '69", and a red-hot duet with singing legend Tina Turner "It's Only Love." The handsome Adams seemed to have found a perfect balance with his pliable foot-stomping rock. He became one of rock's bonafide superstars.
The hit records and timeless riffs just appeared to fall out of the sky one after another and Bryan Adams was not only a household name but an unstoppable force in pop and rock culture.

Song for song it was guitar driven rock 'n' roll, pop 'n' soul classics, dominating the scene breaking records and the charts this was his time and iconic moment and he and his exquisite team and band did not disappoint. 😎

Adams' songs were included in more than 100 film and television sound tracks, and he won a Grammy Award, an MTV Video Music Award, and an American Music Award for his hit "(Everything I Do) I Do It for You" (1991).

An incredible journey as a musician that continues to this day with achievements that define greatness. A fitting tribute was being inducted into the Canadian Music Hall Of Fame.
"Tonight's inductee into the Hall of Fame is fantastic and I love him very much and he just hugged me backstage, which was, to be honest, arousing. He has played in over 72 countries [wow] and played for over 8 people. Oh 88 million people with sales of so many albums, you couldn't fit them in Canada. He is a Grammy, Juno, American Music Award, People Magazine, Oscar winner, Golden Globe Nominee, an officer of Canadian Customs [oh no!] The Order of Canada. He's pretty amazing, that's the point of this Wait, wait, wait… Any great thing, like Live8 or Live Aid, he's always there. He's a crucial part of it and that's kind of all I've got to say about him. He's fantastic. He's a National Treasure for you and for the whole world, really and whenever there's a Canadian flag waving, he's proud to say he's part of that community. He's Bryan Adams and that's all there is to know about him… The newest addition to the Canadian Music Hall of Fame is Bryan Adams."
—Chris Martin, introducing Adams to the Canadian Music Hall of Fame, April 2006

With such a monumental career and phenomenal success it's genuinely difficult to isolate a standout moment, but it's safe to say he will always be that teenage guitar icon that shone the light on guitar culture for the masses and made everyone feel that anything was possible with a guitar and a dream. 🤘
The Summer Of Strings 🎼 😎
A top flight rockstar really needs to rely on his string choice to deliver night after night both live and in the studio. Adams also requires a string he can really connect with and inspire his songwriting process. He has continually found that unique spark with La Bella Strings.

Bryan and his long serving lead guitarist Keith Scott both put their faith in La Bella both electric and acoustic.

I can truly see why as these are great, great strings, exceptional performance, unsurpassed quality and a tone that really is unique and somewhat classic to the well trained ear.

The HRS series offer mind blowing performance with a truly individual voice and noticeably more flexible expression. The 7GPS phosphor bronze strings have a depth of tone and clarity that really sets them apart from many acoustic sets.
"Arlene: Your setup on the Bare Bones Tour is very basic and stripped down. What guitars and gear did you use on the Bare Bones album and on your current tour?
Bryan Adams: I started using vintage Martin Guitars. At the moment I use three different Martins, two from 1957 and one from 1947. They've been fitted with Fishman Pickups and Natural 1 Preamp Pedals. Sometimes I use Inline Effects like Lovetone Brown Source and a custom tremolo. Other than that, it's all about the KM 184 Neumann Microphone in front of my guitar. I use G7th Capos and LaBella Strings, gauges 12 through 52. Oh, one more thing, I use Levy's Guitar Straps."
Guitar International Interview By: Arlene R. Weiss


REFERENCES
https://www.britannica.com/biography/Bryan-Adams
https://www.guitarworld.com/artists/bryan-adams-discusses-new-wembley-live-1996-dvd-gear-mutt-lange

https://www.guitarworld.com/features/bryan-adams-i-realized-i-had-made-it-when-i-could-pay-my-rent-for-more-than-a-month-without-relying-on-anyone

https://www.encyclopedia.com/people/literature-and-arts/music-popular-and-jazz-biographies/bryan-adams

https://www.theguardian.com/world/2016/mar/11/bryan-adams-guitar-egyptian-customs-cairo

https://musicianguide.com/biographies/1608000236/Bryan-Adams.html

https://www.zimbio.com/Bryan+Adams/articles/6/Zimbio+Interview+Bryan+Adams

https://bc.ctvnews.ca/bryan-adams-teases-new-music-from-vancouver-recording-studio-1.4556199

https://ultimateclassicrock.com/bryan-adams-interview-2016/

https://tidal.com/magazine/article/bryan-adams-nothing-to-prove-us/1-18071https://music.apple.com/ca/playlist/bryan-adams-influences/pl.adbea42f22d9446a889ddf73aeeb2c65

https://en.wikipedia.org/wiki/Bryan_Adams